440 Amp Surge! - Multi-Mode Controller
High and Low voltage Load Controller.

With High contrast LED Battery Voltage Meter

Works directly with 12, 24 and 48 volt systems
Not recommended for use with lithium battery banks in the solar mode. Lithium is approved for Wind/Hydro.
The Coleman Air 440-MMC (Multi-Mode Controller) is an extremely capable, highly flexible multi-mode, multi-set point controller, specifically designed as a load controller for alternate energy systems. It can perform both as a high voltage or low voltage cut-in/cut-out controller with user settable trip points and time delays.
Although this controller can function as a standard charge controller, the additional functionality built into this controller allows it to be used for much more specialized applications where a standard charge controller simply would not provide the proper level of control.
If you need only battery overcharge protection, please consider one of our standard diversion controllers, as they are more specifically designed for such an application.
One of the most common uses of this controller is to turn on (or off), a load once a voltage level has been reached (either a high or low voltage) and keep it on (or off), until the 2nd voltage level is reached and/or until a certain amount of time has passed. More detail on this subject is provided later in this manual.
Some of the key features
of this controller are:
Microprocessor

controlled

-- This is very important for both stability and functionality.

User changeable settings

– Both the low voltage and high voltage trip points can be user adjusted.

Works with 12, 24 or 48 volt systems

– Easy to set jumper allows use on 12, 24 or 48 volt battery based systems.

Can engage or disengage the solenoid on either a low or high voltage trip

.

Time delays from 1 minute to 76 minutes

Can be forced to stay engaged (or disengaged)

until both the voltage set point is reached and(or) the time delay has been reached.

High amp rating surge

.

Solenoid has fully isolated normally open and normally closed contacts

.

High Contrast LED battery voltage meter

.

On/Off switch for Meter

.

Battery status LED

- Several controllers do not tell you what's going on - This one does!

Push to test

. - Ever wonder if your controller & load are working OK?

Reverse polarity protected

– This unit will not be damaged if you inadvertently reverse the battery sense lines.

Steel enclosure

- with multiple conduit openings.

Large terminals

- that can actually terminate large wire

Ability to

divert the source

from the batteries to the load, or dump both the batteries along with the source. – Perfect for use with wind systems.

Ability to be used as a disconnect controller. –

Perfect for use with both wind and solar systems, including both at the same time.

Draws almost no energy while monitoring (

all electronics

must use some power, to work -- this is a miser)


Ability to control large loads including induction motors, pumps, grid-tie inverters etc.
Built around a solenoid that we have tested (tortured) in-house at over 460 amps, this controller is user adjustable, has a large enclosure, microprocessor controlled, test button and battery status indications -- There is no other controller on the market like this one, well other than our own C440 of course.
Click here for information on the SEA-440 relay and Coleman Air C440 testing.
General Information:
The microprocessor
is the heart of the controller
.
It is given the battery
voltage and the user changeable trip points. This information is analyzed and acted upon by the microprocessor and based on this input information

the Green
LED
flashes or is illuminated as follows:
One flash indicates the battery is less than the lower trip point.
Two flashes indicate the battery is equal to or slightly higher than the lower trip point.

Three and four flashes indicate the battery is in a mid-state between the lower and upper trip points.

Five flashes indicate the battery is very close to the upper trip point.

A steady green LED means the battery is at or above the upper trip point.

Voltage settings are adjustable.
The red LED is illuminated (and the solenoid engaged) when the battery reaches the primary trip point. The relay remains active until the opposite trip point has been reached and/or the time delay has expired.(See discussion on switches 5 and 6.) If switch 5 is turned on, then the red LED and the solenoid will be OFF when the battery reaches the primary trip point.
When you click the test push-button - the full relay cycle is initiated. If you have set a 16 minute time delay, then the relay will be engaged for a full 16 minutes.


High surge amp rating.

This controller is capable of up to 125 Amps of continuous solar power.

**Note: 440 amps is not continuous, but is limited to 20% duty time.


The enclosure is heavy gauge, solid steel, ready to mount. -- No plastic, no junk, simple and rugged.
This Hoffman pull box is perfect for terminating larger wire. It has multiple knockouts on each side of the box. The box measures 8.25" x 12". The electronics are fully isolated from the box.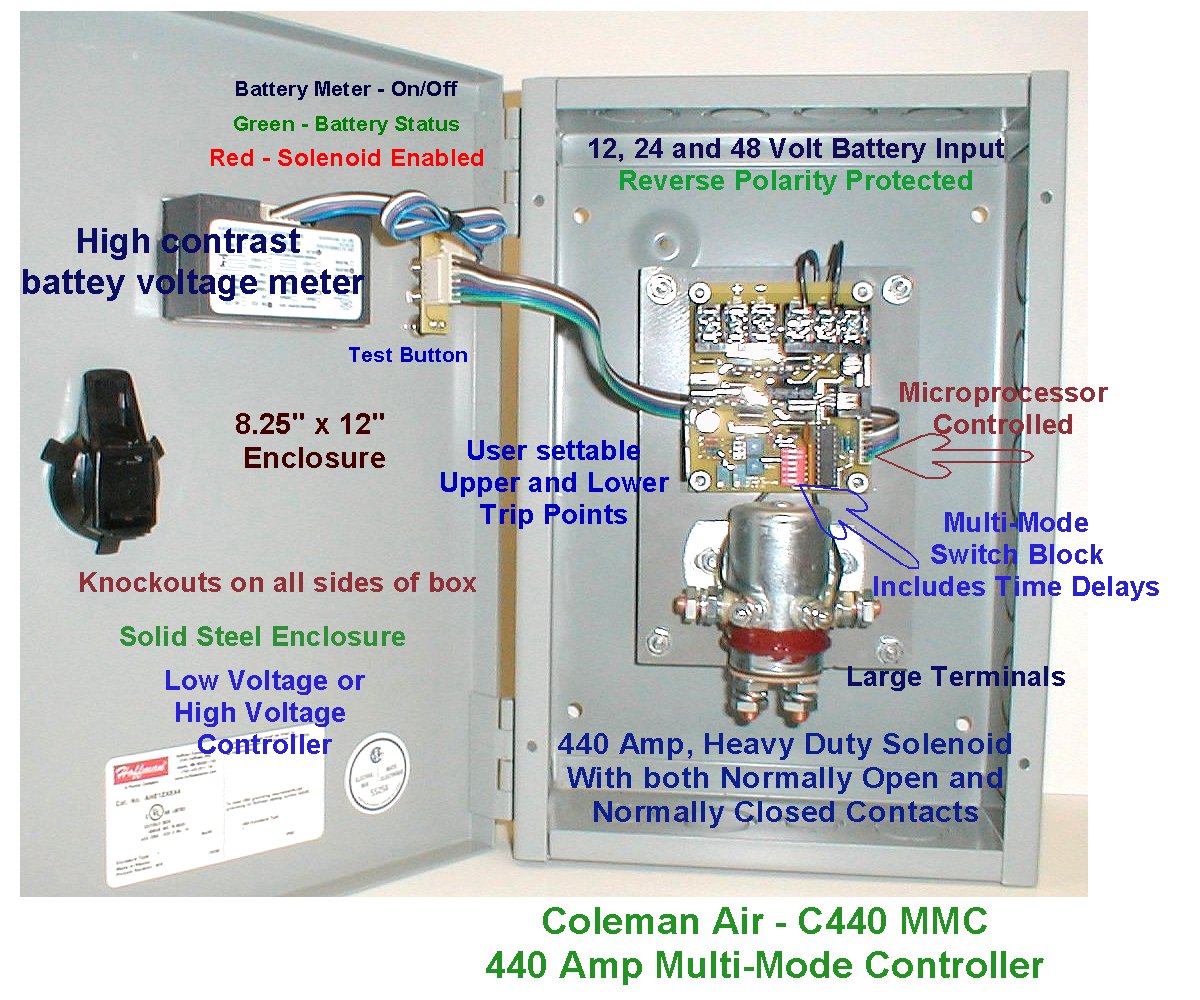 The Coleman Air MMC controller can function as either
a

high voltage controller
or a
low voltage controller
. In either mode, both the upper and lower voltage trip points can be adjusted, yet the two modes are distinctly different: Please down load the manual for more information.


How to compare this controller to others.
Can it function as a low voltage (shut off) controller?
Can you adjust both the upper and lower trip points?
Can you adjust the time delay the solenoid is engaged or disengaged?

Can they handle 48 volt systems directly?

Do they have battery status indication?

Do they have a battery voltage meter with an on/off switch?


Do they have a dump active indication?

Are the dump levels user changeable?

Are they microprocessor controlled?

Do they come with a enclosure that's actually ready to use?

Do they handle the amperage you need?

Do they have a dump test capability?

Are they reverse polarity protected?






When you compare this controller to the others, you will see why we built it and why we know you'll love it.
Ready to go, built to last, right here in the USA.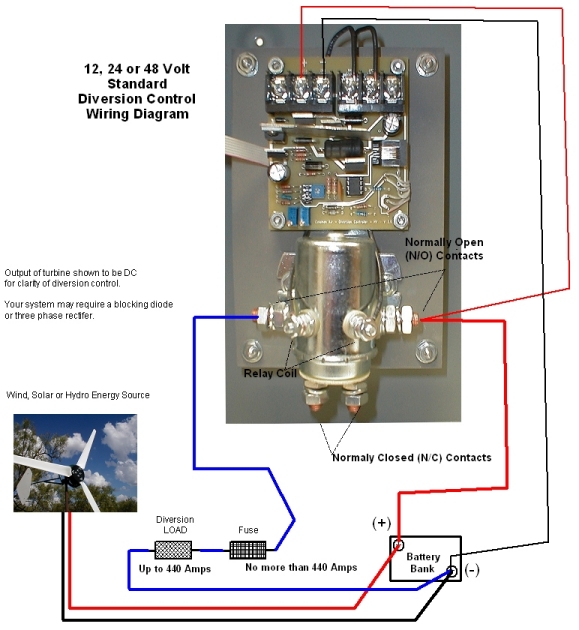 ---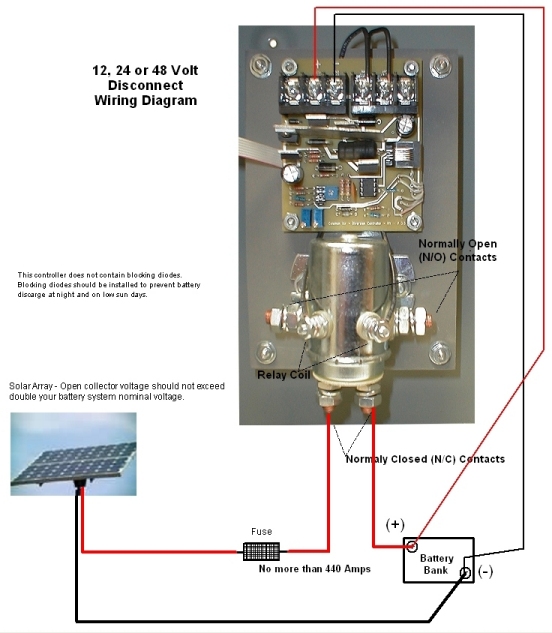 ---


As a low voltage A/C disconnect controller.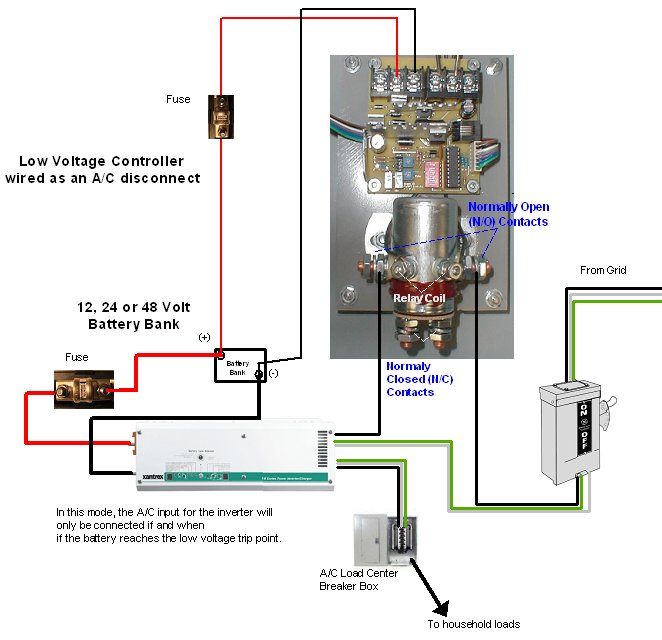 ---