The Digital version of our C440-HVA
The new C440-HVA "D"
Diversion and Solar Disconnect Charge Regulator

Not recommended for use with lithium battery banks in the solar mode. Lithium is approved for Wind/Hydro.
**
Fully Digital user interface.
Solenoid based with 3 stage charge control.
No jumpers or potentiometers need to be set.
LCD 2 x 16 Back-lit display
Both manual and automatic equalize modes are available.
Dual shunts for monitoring both solar and turbine amperage and wattage.
Automatic Nominal Battery Voltage Detection.
Nearly all charge parameters can be set.
Relay on time can be controlled and set for diversion times up to several hours.
Upper and lower set points can both be set.
Automatic LCD back light dimming to save energy.
Dual internal Truck Star breakers, one each for your turbine input and diverson output.
**
Perfect for wind and/or hydro based systems and small solar systems.
---

This controller has been designed for wind systems but also works for solar systems up to 125 amps**
Note: 440 amps is not continuous, but is limited to 20% duty time in the diversion mode only.
The enclosure is heavy gauge, solid steel, ready to mount. -- No plastic, no junk, simple and rugged.
This Hoffman pull box is perfect for terminating larger wire. It has multiple knockouts on each side of the box. The box measures 8.25" x 12". The electronics are fully isolated from the box.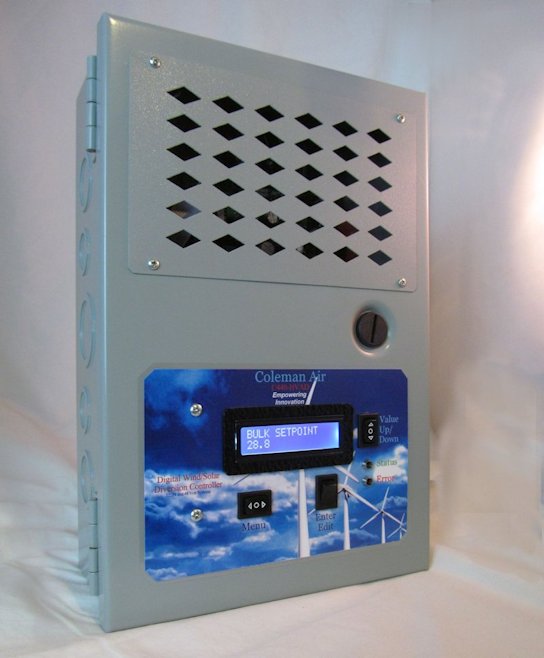 ---

About load diversion.
Several schools of thought on the subject.
The source of power (wind turbine, solar panels etc.) -- should remain connected to the batteries while the dump is active.

The source should be diverted to the load directly and disconnected from the batteries.
We happen to believe that is far better to leave the wind turbine connected to the batteries at all times. Why? When you remove the battery level voltage from a wind turbine and send its power directly to a load, then it sees for all practical purposes a short circuit (depending on the resistance of the load and lead wires.) This may cause the turbine blades to slow dramatically and in some cases bring it to a halt. This braking action can cause heat build up in the stator if it is repeated every few seconds or so (if the battery is just a little over the top).

When you allow the turbine to see the batteries, along with the load, the turbine remains more within its design realm

-- always a good thing.

When you compare this controller to the others, you will see why we built it and why we know you'll love it.

** The solenoid in this unit has been tested to over 440 amps. We have installed two 150-amp breakers as a standard configuration.
This allows for 9000 watts of wind power in a 48-volt system, 4500 watts in a 24-volt system and 2250 watts in a 12-volt system.
Solar systems should be designed for no more than 125 amps continuous current.. **