155 Amp - Solid State PWM Solar Charge Controller

With Two High contrast Meters (both Volts and Amps)
Two D/C breakers/disconnects.
Works directly with 12, 24 and 48 volt battery based systems
This solid-state (no relays or solenoids) charge controller has been specifically designed for large to medium sized solar, battery based alternate energy systems of up to 155 amps. With thousands of hours of R&D, this controller solves many of the issues currently unaddressed in most if not all other charge controllers. One of the most prevalent problems has been, how to handle more than 60 amps of solar power without using multiple controllers. Most charge controllers on the market use one or two power mosfets, generally limiting their current capabilities to a range of 40-60 amps. The Coleman Air C155-SMA uses four high-power IGBTs (400 amps each), in a parallel configuration, allowing a significant increase in total current handling capability. Our in house testing has shown that this controller can handle surges of 12,500 watts! We are unaware of any other solid-state charge controller that can come close to this level of power handling.

Some of the key features of this controller are:
High amp rating – 155 amps solar (1860 watts at 12 volts, 3720 watts at 24 volts, 7440 watts at 48 volts, with 10,000 watt surge)

Microprocessor controlled -- This is very important for both stability and functionality.
Solid-State. No relays or solenoids to wear out.
PWM (pulse width modulation) charging. (Charges using pulses of varying lengths)
Three stage charging for better battery life.
Both manual and automatic (30 day) equalize function.
User changeable settings -- Several controllers on the market set the voltage levels, and that's that!
Over-current, over-voltage and overheat protection.
Multiple system voltage settings – Easy to set jumper allows use on 12, 24 or 48 volt systems.
High Contrast LED battery voltage and amperage meters.
On/Off switch for the meters to allow extremely low idle current.
Battery and charge status LEDs - Several controllers do not tell you what's going on - This one does!
Push to test. - Ever wonder if your controller is working OK?
Reverse polarity protected – This unit will not be damaged if you inadvertently reverse the inputs.
Steel enclosure – 12 x 10 x 6 enclosure with multiple conduit openings and cooling vents.
Large terminals - that can actually terminate large wire, with lugs that accept up to 2/0 wire.
Passive cooling systems uses aluminum cooling pipes that run the length of the unit for continuous cooling of the entire unit allowing for proper operation at high power levels.
Two internal 150-amp breakers with manual reset/disconnect.
No blocking diodes are required, the IGBTs prevent reverse leakage.
Optional accessories include a battery temperature probe. Remote monitoring accessories will be available in the future.
Note: Continuous power handling may be reduced in hot climates or installations.



Click here to download the C155-SMA Charge Controller Manual.
The microprocessor is the heart of the controller.
The battery level is constantly checked by the microprocessor and compared to the active mode's (Float, Bulk or Equalize) set point to determine how much (if any) current should flow into the batteries. As the battery's level of charge increases, so does the voltage of the battery (the battery's level of charge can be determined by the voltage of the battery.) As the charge level increases the controller may use very short pulses of energy to "top off" or maintain the charge at the optimum level. These pulses of energy will be of varying lengths as required. This charging algorithm is referred to as pulse width modulation (or PWM), and when properly controlled, offers a very suitable method of charging deep cycle batteries to ensure good battery health and longevity.
Settings are of course user changeable!
By simply turning the set point potentiometers with a small screwdriver, you can quickly adjust the trip point for the float or bulk mode. (Equalize mode is about 7% higher then the bulk mode).
Four very powerful 400 amp IGBTs are wired in parallel to insure plenty of reserve capacity above the rated 155 amps this controller.
The controller can handle surges in excess of 155 amps; however, sustained high amperage currents will cause the internally mounted breakers to trip and/or the unit to heat up rapidly causing a cool down period. It is recommended that you use the controller to control currents that will not exceed the 155 amps of solar energy under the best of charging conditions.
The enclosure is heavy gauge, solid steel, ready to mount. -- No plastic, no junk, simple and rugged.
This all metal box is perfect for terminating larger wire. It has multiple knockouts on each side of the box. The box measures 10.25"W x 12.5"H x 6.25"D. The electronics are fully isolated from the box. Shipping weight is approximately 20 lbs.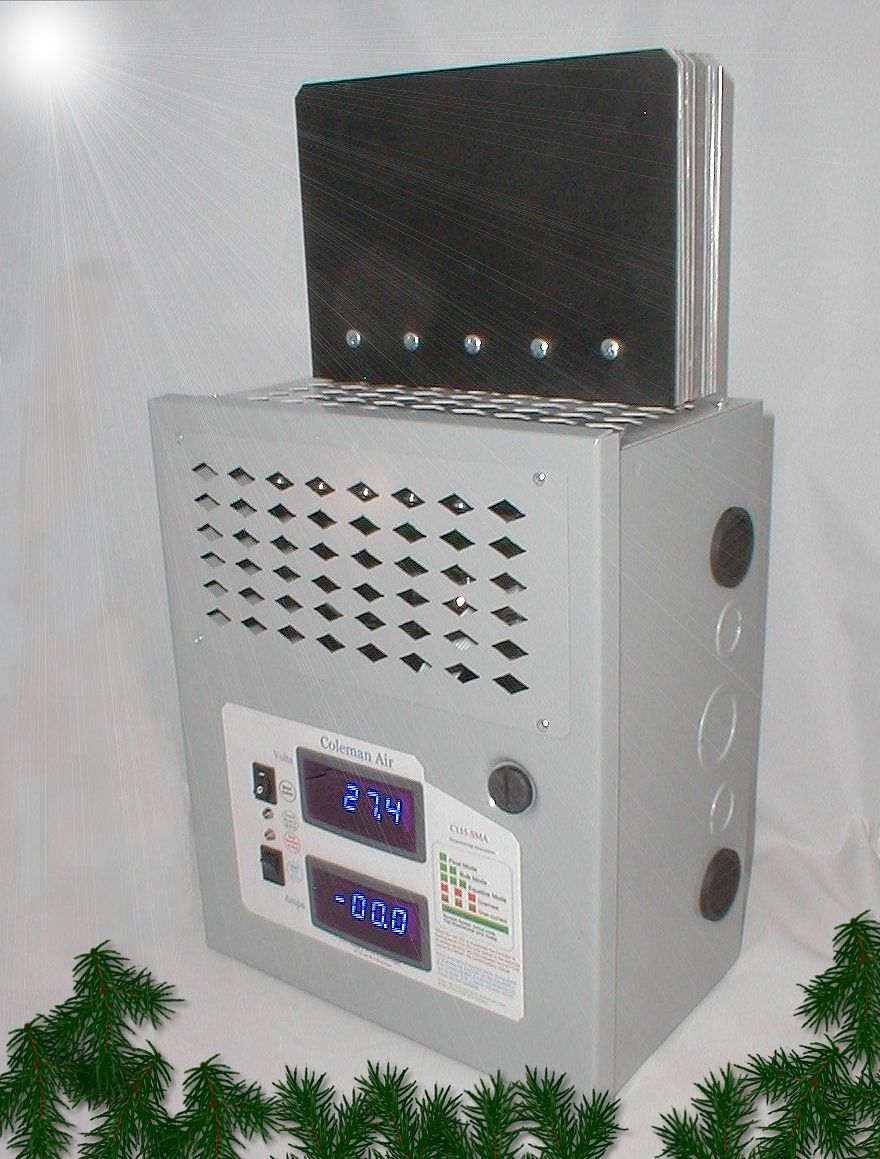 When you compare this controller to the others, you will see why we built it and why we know you'll love it.











A quality built controller, no skimping on parts, insuring the best fit for the most demanding solar installations, ready to go work!












Ready to go. built to last, right here in the USA.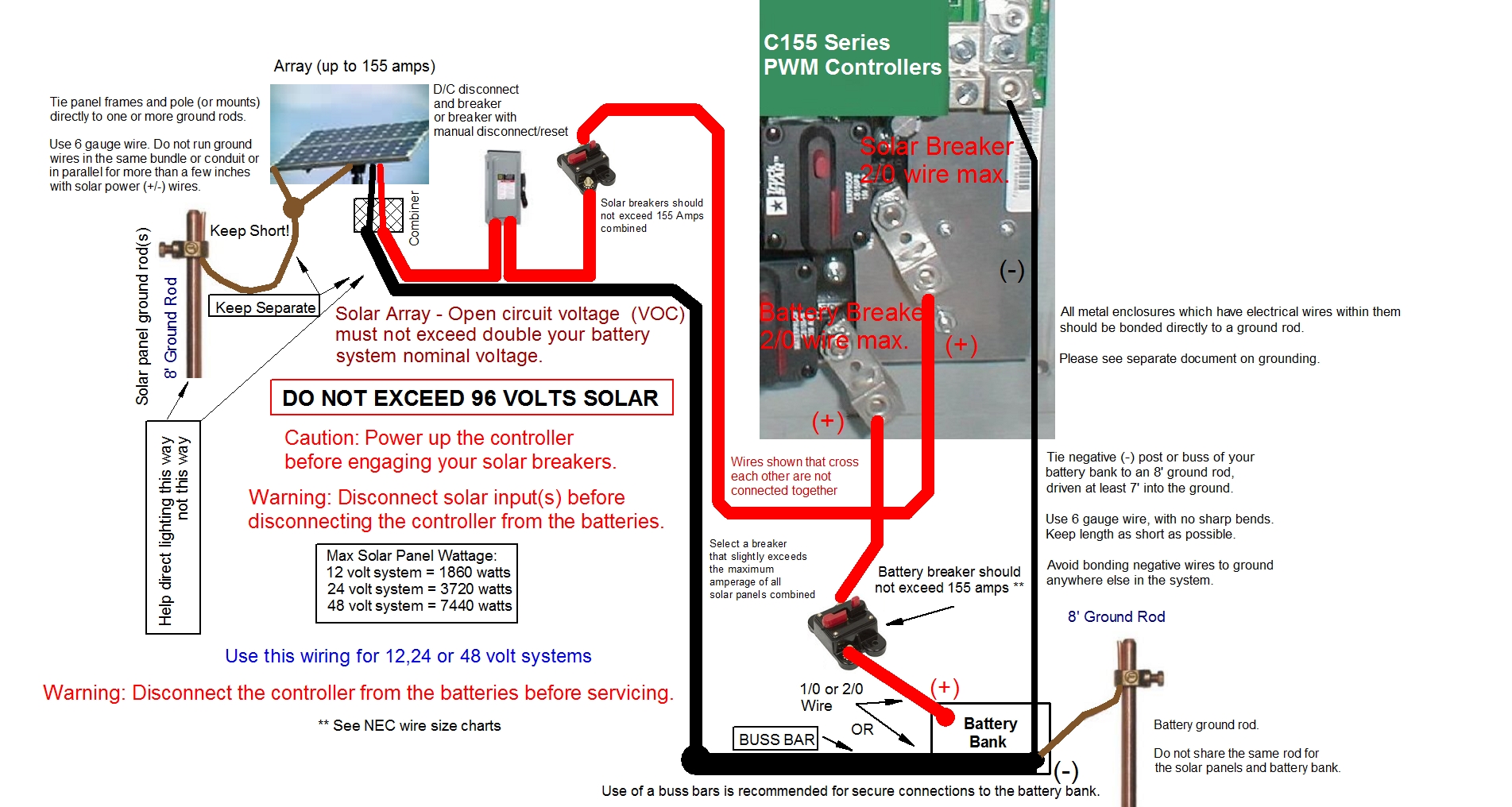 ---