12V/24V DC Digital Red LED Panel Meter on/off Switch 30V Max No ext power needed
12V to 30V DC Digital Red LED Panel Meter
Auto-Brightness
With On/Off switch
Finally an affordable, ready to go volt meter for your alternate energy system.
A highly-efficient yet flexible meter which can be used to measure the voltage of 12 or 24 volt battery banks directly. No separate power supply is needed! Simply hook up the two lead wires directly to your batteries.
This meter is also perfect for measuring vehicle, yacht, electric toy, tool or motorcycles having a single or double set of 12V storage batteries.
Advantage over other panel meters by competitors:
Compared with LCD panel meters, this LED panel meter has a

high contrast,

wide viewing angle with very easy to read numbering.
Super convenient operation (

DOES NOT need an additional power supply.

) Hook up the two leads and you are set.

Self adapted

to ambient brightness, not dazzling in night time as the panel meter will

automatically

adjust its brightness.

On/Off Switch -- This meter uses only 13ma ( .0013 amps) in darkness. If you are like many of us who simply do not like wasted energy, regardless of how small it is, then you will love this meter, as you can simply shut if off when you are not using it.

Great looking, black matte solid metal face plate, mounts on a standard dual switch outlet box (included.) This allows you to flush mount it if desired into a standard electrical switch box.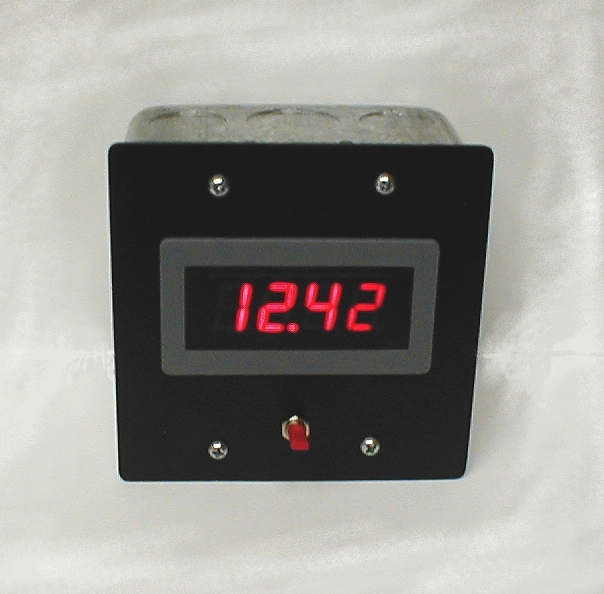 The camera cannot do justice to the clarity of the display.
The LED characters are quite perfect.
The camera is simply unable to focus on this unit properly.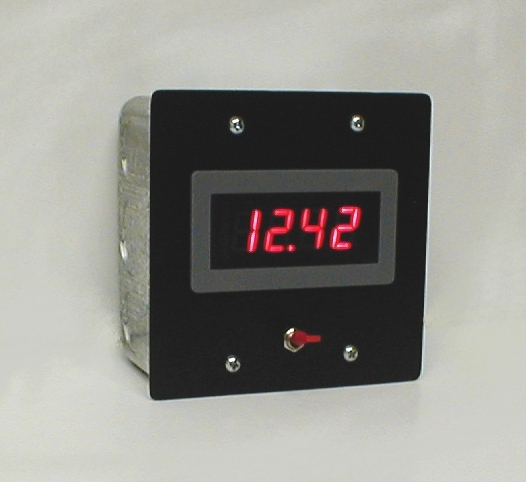 Features:
Large (0.56"/14.2mm) easy-to-read red LED display.
Wide application range. Can be used to measure the voltage of various batteries ranging from 8.5-30V DC.
Successive approximation-based AD conversion, which is fast and accurate.
High-efficient DC-DC converter, with very low temp rise.
Specifications:
Analog Input

Min.

Typ.

Max.

Units

Scale Input Range

8.5

-

30

V

Power Supply Requirements

Supply Voltage

8.5

12

30

V

Supply Current (@ VCC = 12V )

Full sunlight

-

30

-

mA

Total darkness

-

13

-

mA

Power consumption ( @ VCC = 12V )

Full Sunlight

-

0.36

-

W

Total Darkness

-

0.156

-

W

Performance

Responding Rate:

-

1

-

s

Accuracy ( @3 minute warm up )

0.01

0.08

0.15

V

Display

Display Type and Size

digit, 0.56"/14.2mm high LED

Over-range Indication

"1_ _ _"




Operating Temperature

-10

-

60

?

Storage Temperature

-40

-

75

?

Humidity

0

-

85

%RH
No manual is included with this meter, as it is about as simple as it gets, and we would rather not waste the paper.
To use this meter, simply hook up the red lead wire to your positive battery post (or energy source), and the black wire to the negative side. The meter will function great in the range of 8.5v to 30v. If you exceed 30 volts it will read "1___", voltages lower than 8.5v may be inaccurate.
Flip the switch up to turn the meter on, and down to shut if off. That's about it, super simple, yet super functional!
Shipping And Returns
Our shipping charges are basically what it cost us to ship. International shipping rates via the USPS for this weight are much higher than you might expect. Please click HERE to view just how much these charges are, and you will see that our rates are just what it cost. We would charge less, if it cost us less.
Due to major delays in customs, we no longer ship to Italy.
To our International customers. We cannot misrepresent the price of the products being shipped to you. You are responsible for any and all tariffs, duties or import fees imposed by your country or customs.


Returned items must be in their original condition and fully resalable. Returns may incur a 20% restocking fee. Damages that occur during return transit will be liable to the buyer. Buyer is responsible for all tariffs, customs fees, VATs.
By popular request, here are a few documents that show just how all of these components tie together

.
If you have any questions, please do not hesitate to ask, we are happy to help.



Thanks For Looking!

Coleman Air -- Empowering Innovation

Wind and Solar Controllers, Electronics, Hardware & Accessories perfect for the DIY'er.